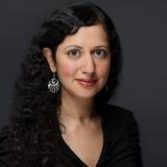 Rubina is one of 22 candidates for the 2019-20 Board of Directors election. ONA members as of Sept. 9 are eligible to vote between Sept. 11 and Sept 27. Learn more about the election process and check out Rubina's vision for ONA.
Rubina Madan Fillion is the director of audience engagement at The Intercept, where she focuses on social media, analytics, newsletters, comments, podcasts, events, SEO, and the membership program. Previously she spent seven years at the Wall Street Journal as a social media editor and graphics editor. She worked at the New York Times as a freelance graphics editor. She has written for Reuters, HuffPost, the New York Post, SPIN, and the Associated Press.
Rubina has taught graduate-level digital journalism courses at Columbia University and New York University. She was part of the 2017 cohort of the Online News Association's Women's Leadership Accelerator. She serves on the boards of ONA NYC and the Deadline Club, New York's chapter of the Society of Professional Journalists. She holds a bachelor's degree from Emory University and a master's degree in journalism from Columbia University.
Website: https://www.linkedin.com/in/rubinamadan