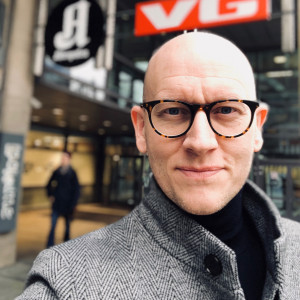 Ola is one of 22 candidates for the 2019-20 Board of Directors election. ONA members as of Sept. 9 are eligible to vote between Sept. 11 and Sept 27. Learn more about the election process and check out Ola's vision for ONA.
Ola Stenberg (38) has since 2014 been the Executive Digital Editor in VG – Norway's #1 online news site. Ola has been in the forefront to develop VG to become one of the most successful news brands in Scandinavia and Europe, both in readership and economic results.
Ola is journalist educated and has worked as a reporter and video journalist for many years before he started his passionate journey of development and innovation.
Ola has been responsible for the turnaround of the newsroom – from being traditional print-oriented, to become highly qualified in the understanding of modern journalism and storytelling on online platforms.
Ola is responsible for a strong portfolio of new initiatives in VG and is also the head of product development and innovation. He is especially focused on VG being attractive to younger readers. VG is now the only Scandinavian media house on Snapchat Discover, and has managed to get 300.000 daily readers in the age between 13 and 25 on their edition. This year he´s also launched a new news app for younger readers, called "Peil". Ola is also responsible for VG´s very successful digital subscription-service.
Previously, Niketa was Director of News & Content Partnerships at RebelMouse and there she went on to become of Managing Director of RebelMouse's Media Lab. She focused on key initiatives with an eye towards content creation, audience development and multi-platform products.
Niketa has 15 years of experience in digital journalism and audience development at CNN, ABC News, CBS News, The Atlanta Journal-Constitution, Florida Times-Union and more. She's also been a long-time member of ONA, AAJA & SAJA.
Website: http://vg.no