If you can't join us in Austin for ONA18, there are numerous ways for you to follow along with the conference and capture valuable resources and inspiration to share with your newsroom. Please note that all times on the schedule are listed in Central Time.
ONA on Air
We're pleased to introduce our new podcast ONA on Air. Pitched by ONA18 Audio Team Chair Erika Aguilar, ONA on Air will share snippets from popular sessions, interviews with speakers and other stories from the conference. The feed will soon be available Google Play and Apple Podcasts; while you can find it now on Soundcloud and Stitcher. Listen to the trailer.

Livestream or watch later
Select sessions will be available on livestream. Check out the ONA18 Live page to see the schedule for livestream coverage and RSVP to receive a notification when the session begins. If you're browsing the ONA18 schedule, you can also find these sessions by looking for the screen icon. Video recordings will be available as soon as the session concludes.
More audio resources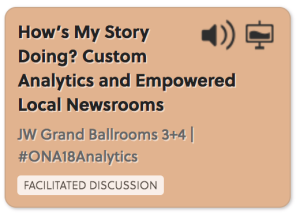 Audio recordings of select sessions will be available after the conference. Look for the speaker volume icon on the ONA18 schedule to see which sessions we're recording.
Social media
There are a lot of ways for you to follow and join conversations on social media during ONA18.
Hashtags
To make it easy to follow or join a conversation about a specific topic, we've created custom hashtags for each session. Relevant hashtags are available on the ONA18 schedule.
The social team will post updates on Twitter, along with session attendees. You can find their highlights in the "Social Conversation" section of the individual session pages on our schedule. Feel free to join the discussion and ask questions!
Get social on Twitter
Instagram
ONA is @online_news on Instagram. Follow along to catch fun, visual highlights and share your stories with us by tagging the account and including the hashtag #ONA18.
Facebook
Connect with us on Facebook  and YouTube to watch takeaways from the ONA18 Video Team — they will post interviews with speakers and exciting moments from the Opening Night Reception and Online Journalism Awards.
All sessions with the screen icon on the schedule will be available on Facebook Live, where you can use the comments section to discuss with other viewers.
Student Newsroom and Innovation Lab
The members of the ONA18 Student Newsroom will act as onsite reporters covering the conference and putting together multimedia packages with the guidance of experienced industry mentors.
Honoring the best in digital journalism
On Sept. 15, we will announce the winners of the 2018 Online Journalism Awards. We encourage you to RSVP to the livestream to get a reminder when it starts at 8 p.m. CT. Follow along and cheer for your favorites using the hashtag #OJA18.
If you're looking for even more ways to soak up what's happening at ONA18, the conference website is your best resource. After the conference, we'll collect presentations and other materials from speakers and post them on the resources page, along with archives of social conversations and the video and audio recordings.