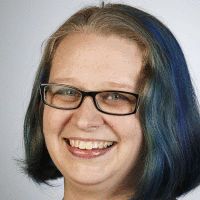 Erica Smith is the online editor and director of digital strategy at The Virginian-Pilot, where she leads audience development, digital strategy and analytics, and innovation.
Earlier this year, she earned her master's in entrepreneurial technology. She also was named the Local Media Association's digital news innovator of the year for 2017 for leading her newsroom in audience growth, introducing new products and innovative solutions to newsroom problems, and educating colleagues on trends and best practices.
She previously worked at St. Louis Public Radio; the St. Louis Post-Dispatch; and a digital marketing agency. She teaches at two high school journalism workshops each summer. The best way to say hi digitally is with a cat GIF.
Website: http://twitter.com/ericasmith