The ONA18 Volunteer Committee looks for more than 100 volunteers to work before, during and a little bit after the 2018 Online News Association Conference in Austin, Texas, Sept. 13-15. Volunteers work alongside the best minds in online journalism and revel in the satisfaction of pulling off one of the best events in the industry.
Applications are now closed. The application period was Feb. 20–March 29. All applicants will be notified of their status before the early-bird registration period ends so that they can take advantage of our lowest registration rate if they are not selected.
While we review each application based on its strength, ONA prioritizes freelance and local news volunteer applicants. Read more about the details in our FAQ.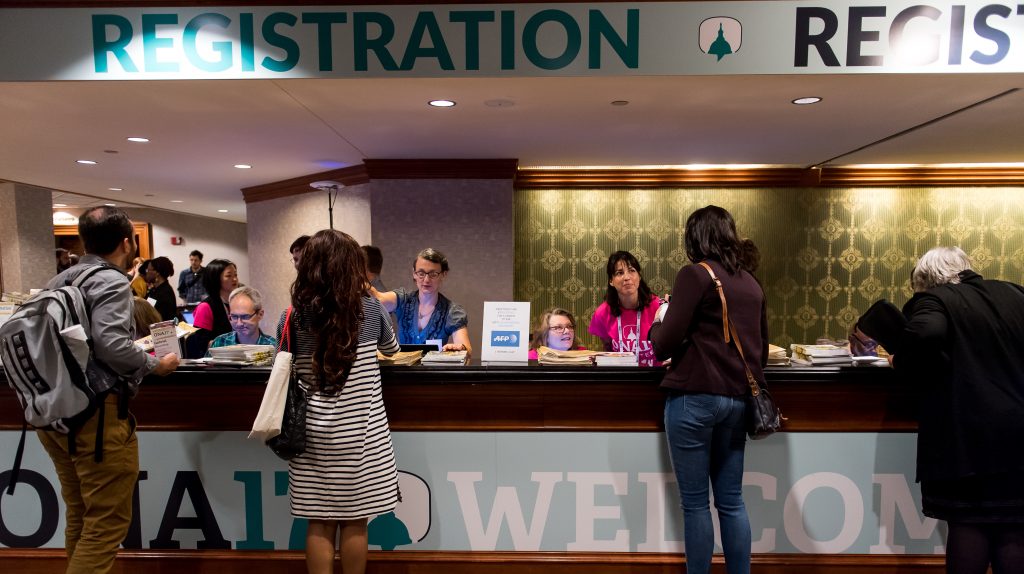 Volunteers
General volunteers help support pre-conference preparations, registration, sessions, special events and other critical elements of ONA18.
Video Team
The video team captures the energy and experience of the conference by interviewing experts, visiting exhibitors, covering events, and broadcasting live on social media.
Audio Team
The audio team works with our technical team to ensure sessions throughout the conference are recorded and available as an archive of the conference, as well as talking with attendees and experts for quick "live-to-tape" cuts.
Social Team
The social team provides live coverage of sessions and keynotes throughout ONA18.
Frequently Asked Questions
I have already volunteered at several ONA conferences, what does this mean for my chances of getting selected again?

Each year, the volunteer team receives more than 200 applications and in an effort to welcome a mix of returning and new volunteers, returning volunteers are not guaranteed that they will be selected.

Beginning in 2019, ONA will be implementing a new cap system. Volunteers who have had a role for two consecutive years may not be selected, with an exception made for critical leadership roles.

As with previous years, if you apply and are not selected, there will still be a chance to add your name to a wait list and those spots are filled on a first come, first served basis as other needs or roles are identified.

Do volunteers receive a pass to ONA18?

Yes, each of our volunteers will receive one complimentary badge to attend our conference, which has sold out for the past 11 years running. We will select more than 100 volunteers in total.

Do volunteers receive any support for travel, or room and board?

Unfortunately, we are not able to provide travel, hotel or meal reimbursement for volunteers. However, we will have some food and snacks available for volunteers.

Are volunteers able to attend educational sessions?

Members of the Social and Audio Teams will work with their team leaders on schedules and may be able to pick sessions they cover. The Video team does not cover sessions, and works throughout the event, so members need to make note of sessions they are interested in attending in advance, which we're happy to accommodate. General volunteers are required to work a total of eight to 10 hours throughout the conference, with shifts assigned by their team leader.

What qualifications do volunteers need?

We've outlined the qualifications we're looking for at each link above. Needs range from simply having a love of digital journalism to more technical knowledge for our Video, Audio and Social Teams.

What if I apply to more than one position?

No need to worry — our team leaders will coordinate to find the best spot for you.

Am I guaranteed a spot on the volunteer team?

Each year, we receive hundreds of volunteer applications, which means you may be added to a wait list if you are not chosen. As spaces become available, our team leaders will coordinate and reach out.

When will I be notified?

Each team will notify applicants once that team is finalized. So you may hear about different positions at different times. Team leaders start choosing teams soon after the application period closes, on March 30 at 11:59 p.m. ET. You'll be notified before early-bird registration rates end; that way, you can still take advantage of our lowest rates in case you're not selected as a volunteer.

Who can I contact?

Each team has its own email address. To get in touch, email the appropriate team leads with the links below: