I won't pretend I know all of the best places in Austin — I have, however, eaten dozens of meals in the city during the last few years while ONA participated in SxSW and prepared for ONA18.
Here are several recommendations for meals within walking distance of the JW, and a few more that require a car or scooter to give you a broader view of the city.
Interactive maps provided by WeMap
Inside the hotel
Our host hotel has a variety of food options, from drinks by the pool deck on the fifth floor, to local beers and coveted patio seating at the Corner Restaurant, upscale Italian and sprawling wine selection at Osteria Pronto and a sleek lobby bar (under construction until Friday). Plus a hidden gem: great grab-and-go options (including breakfast) at the walk-up Burger Bar on Congress, located right next to the Corner where you can order a super turkey burger and onion rings.
Our sponsors and exhibitors will also be serving up great snacks, refreshments and even shaking cocktails in our lounges on the second, third and fourth floor foyers, as well as the main exhibit hall. Join them!
If you need caffeine fixes, both Reuters in the 3rd floor foyer outside of Lonestar A, B + C, and Facebook on the 4th floor registration foyer, will be offering java to our caffeine hungry attendees.

Within walking distance
Fareground:  Austin's first food hall is less than a year old and just happens to be across the street from the JW Marriott. Fareground features a bakery, a cheese shop, a bar and several tiny outposts of the city's hottest restaurants, including hyperlocal taqueria Dai Due. A great spot for a quick breakfast, lunch or drinks on the patio.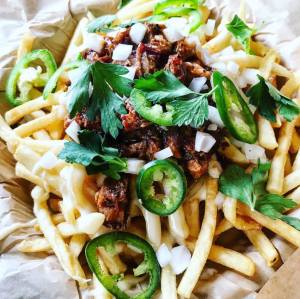 Holy Roller:  This woman-powered upscale diner is all about brunch — it's served every day of the week — but don't overlook its exceptional drinks list, both non-alcoholic and fully leaded. It's worth the 15-min walk, especially for the fries topped with Stiles Switch brisket and anything made by the restaurant's exceptional pastry chef Britt Castro.
Arlo Grey at the Line Hotel: The restaurant in the new boutique Line Hotel (it was the Radisson for many years, and a well-know, fixture of SxSW) opened in June and is led by Top Chef season 10-winner Kristen Kish. It's a swanky dining room with a great water view (in case you want to do dinner or drinks to impress at ONA18) — and if you like celebrity chefs, you may be able to coax Chef Kish out of the kitchen.
Second Bar + Kitchen: Good for groups, their menu features small plates and plenty of interesting libations. Located right across the street from the JW Marriott, this restaurant also has lots of private dining space — in case you're in party-planning mode.
Swift's Attic: There's plenty of local flavor at this eclectic spot around the corner from ONA18. The dinner menu offers a solid veggie line-up, including a bracing broccoli salad with Riesling vinegar and sweet potatoes with tomato and coconut curries.
Donuts + kolaches:
There are plenty of donut shops in Austin, including one of the few Voodoo Doughnut shops outside of the Pacific Northwest — and this one is just a 5-minute walk from the JW Marriott.
For a local treat, take a quick walk over to Little Lucy's, a pink food truck churning out fresh donuts each night on bustling Rainey Street.
An early morning quick walk across the bridge will bring you to Howdy Donut, which specializes in kolaches: Czech savory pastries  stuffed with sausage or cheese that have found a home in Texas.
Barbecue:
Tacos (near and far): I'm not going to start a fight here, but I will say the ONA staff is partial to Tacodeli and Torchy's — neither of which have downtown locations — as well as Taco Shack, which thankfully does, two blocks from the JW Marriott at 402 Brazos Street. Honestly, you can basically walk outside and get a good taco at any time of day, from convenience stores to bars and food trucks.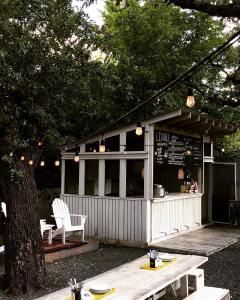 You'll need a lift for these last four …