You don't have to walk far in Austin for an outdoor adventure. Whether you're into hiking, swimming, paddling or just watching nature do her thing, the city is known for its outdoorsy attitude.
I'm the fitness and adventure reporter at the Austin American-Stateman, and I swim, bike, run and keep up with all the cool outdoorsy things to do in Austin. Here are some of our favorite ways to connect with Mother Nature without leaving the city.
Interactive maps provided by WeMap
When the summer heat wilts you like old lettuce, head to this glinting, spring-fed pool in the heart of the city for a brisk wake-up call. Water temperatures hover between 70 and 72 degrees year-round and you'll find yourself swimming among crawfish, waving tendrils of underwater foliage and, perhaps, the occasional topless bather. The pool is also home to the endangered Barton Springs salamander. Take advantage of a bathhouse for changing and showering, and big, shady hillsides where you can spread a towel and relax. Entry fee for local residents is $3 adults, $1 seniors or veterans; non-residents pay $8 adults, $4 seniors. No coolers, food, smoking, glass or alcohol and be aware that the pool closes for cleaning from 9 a.m. to 7 p.m. on Thursdays.
2131 William Barton Drive, (512) 964-6300.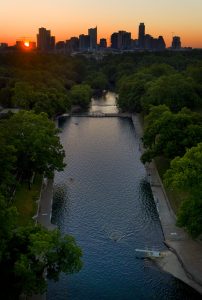 The Greenbelt is where locals head when they want to log trail running, mountain biking or hiking miles. Even climbers love the place, heading to locations like Seismic Wall where they can scramble up limestone cliffs. The main trail winds about seven miles (the first four miles overlap with the Violet Crown Trail), and culminates with a rocky ascent at a place called the Hill of Life. Along the way, you'll criss-cross the creek multiple times — and if we've had plenty of rain, you'll find water deep enough to swim at places like Twin Falls, Campbell's Hole, Sculpture Falls and Gus Fruh.
Map it: 2131 William Barton Drive – Access at the southwest end of parking lot at Barton Springs Pool in Zilker Park.
Hop on this 10-mile urban loop around Lady Bird Lake to stretch your legs and get some of the best views of the city, especially at sunrise or sunset. The trail includes a 1.1-mile boardwalk on the south side of the river at Interstate 35. (Look for the bronze belts engraved with song lyrics and mounted on the railing if you want to brush up on your Texas music.) Another highlight? The Pfluger Pedestrian Bridge, a wide river crossing just east of Lamar Boulevard where people gather to socialize, exercise and watch passerby. Be wary of poison ivy.
Map it: Ann and Roy Butler Trail
Swimming's not allowed in this dammed stretch of the Colorado River, but you can explore by kayak, canoe or stand-up paddleboard. Be sure to detour into Barton Creek on the south side of the lake, and if you're feeling ambitious, paddle up the main river to Red Bud Isle where dog owners congregate to let their pets play. Several places rent boats include The Rowing Dock, 2418 Stratford Drive, 512-459-0999; Zilker Park Boat Rentals, 2101 Andrew Zilker Road, 512-478-3852; and Texas Rowing Center, 1541 West Cesar Chavez, 512-467-7799.
Map it: First Street Bridge at Lady Bird Lake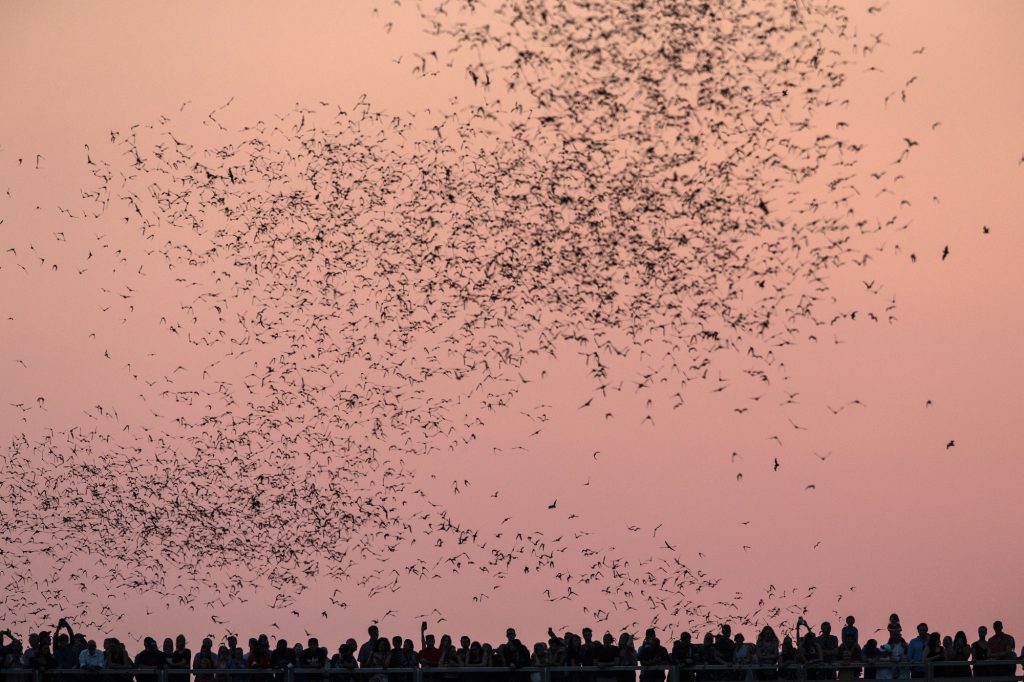 5. Bat watching
Each evening, a stream of Mexican free-tailed bats emerges from beneath the bridge, spiraling out at about dusk to forage for dinner. Up to 1.5 million bats live in the crevices under the bridge — the largest urban bat colony in North America — and they gobble 10,000 to 20,000 pounds of insects, including agricultural pests, each night. Watch the show from the hillside at the Statesman Bat Observation Center on the southeast side of the bridge, from the sidewalk atop the bridge, or the small bulb-out in the pedestrian bridge beneath the bridge on the north side of the river. And never handle a downed bat!
Map it: Ann Richards-Congress Avenue Bridge at Lady Bird Lake
---
Pam LeBlanc just celebrated her 20th year on staff at the Austin American-Statesman and Austin 360, where she covers fitness and adventure travel and writes the weekly Fit City column and blog. You can find her on Instagram at @FitCityAustin and on FaceBook as Fit City. An avid swimmer who rides her bicycle to work most days, her hobbies include scuba diving, backpacking and water skiing.